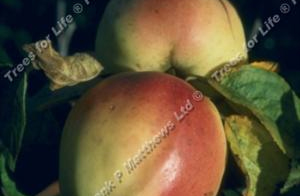 Winter Banana
Known to develop an aromatic flavour and scent of banana and very juicy when ripe. Large, smooth skinned with a bright red flush on yellow background.
£

31.00 –

£

66.00
Select options
Winter Gem
Winter Gem is a new apple with an amazing flavour! Green attractive fruits are flushed with pinkish-red. A strong grower, it does need good pollination as it can be a shy cropper in some years. Best on a dwarf rootstock … Read More
£

20.00 –

£

70.00
Select options
Worcester Pearmain
Reliable crop of delicious orange-red fruit. Firm, juicy flesh is very sweet with strong strawberry flavour. A seedling of Devonshire Quarrenden. At its best when ripened on the tree and just before it falls off.
Read more